The Crystal Web
A project for coaching and education, the Crystal Web aims to bring together new and old ways to enter into harmony with ourselves, our environment and our life, so that we can walk in beauty.
The main approaches we currently offer are The BodyTalk System™ and Sacred Circle Dance. We also collaborate with practitioners of other approaches old and new, especially for the purpose of shared research.
Katharina Kroeber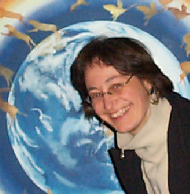 I grew up in Germany, and after graduating from Leibniz Universität/Hannover moved to Scotland in 1993, where I began training as a circle dance teacher. I have now been teaching classes and workshop for over 20 years, researching and presenting different areas like building community through dance, dance and weaving, and boosting body intelligence through circle dance. I have also worked on several dance-related translation projects, deepening my understanding and knowledge of circle dance traditions.
After a long illness, I discovered the BodyTalk System in 2009 and graduated as a Certified BodyTalk Practitioner in 2011. Alongside many years of experience offering one-to-one sessions, I also consider myself to be an ongoing student: the BodyTalk System is a dynamic modality that incorporates the newest scientific research, so there is always more to learn, and my ongoing training directly benefits the sessions.
Mark Dammer
Mark is a scientist with a lifelong interest in research. He develops software and systems in commercial, not-for-profit and research settings.