About Me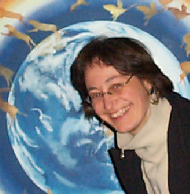 I grew up in Hannover, Germany, and after graduating from Leibniz Universität Hannover in 1993 moved to Moray, Scotland, where I have now lived for more than half of my life.
Already as a student I was fascinated by the question of health: is it the absence of illness, does it have to do with happiness, how do we lose it, and how can we get it back?
During the 1990s I studied Process Oriented Psychology with the Process Work Center in Portland, Oregon, with training modules both in the UK and the US, and gained a Certificate of Study. Here my research question was: why is it that some people get ill while others in a similar situation manage to stay healthy, and how can we unfold our personal story of health?
In the 2000s a long illness made me consider the question of health even more deeply and eventually led me to BodyTalk and the International BodyTalk Association, where I graduated as a Certified BodyTalk Practitioner in 2011. I am happy to say that I fully recovered and am now healthier and fitter than I have been at any point in my adult life.
I always felt that I wanted to have more of a voice in my own healthcare, so when I discovered that a BodyTalk treatment is entirely based on directions from the client's body I was thrilled. Having learned in Processwork to respect the story as it unfolds, I love to listen to the body's story of health with deep respect, making available my training, experience, and full attention. After more than a decade of working with BodyTalk I am still full of gratitude for every session, for the listening space opening up, and for being able to be helpful in this way.
Another of my lifelong passions is learning, and I'm usually part of at least two study programmes in different areas of body and mind research. Over the years of the pandemic I have learned a lot about stress, emotions, and their impact both on our physical bodies and on how we experience the world. I also spend a lot of time with animals, retraining in direct, non-verbal communication with my mostly equine training partners.
my BodyTalk training modules include:
BodyTalk Fundamentals
BodyTalk: Principles of Consciousness
Breakthrough 1 & Breakthrough Practical
MindScape
BodyTalk Access
BodyTalk: Bio-Dynamics
AnimalTalk & Access for Animals
BioPhysical Mind
BodyEcology
Energetic Epigenetics
BodyTalk Macrocosmic BodyMind
BodyTalk Matrix Dynamics