Practical Information
NEWS: in-person sessions are now available again at Healthworks in Forres.  Sessions are still available via zoom, skype, whatsapp video call or phone. For more information on what to expect in a remote session click here.
A BodyTalk session usually takes around an hour, but it cam be shorter or longer: we are finished when your body says we are finished. If you can, schedule in some time to yourself after the session – you might want to sit quietly, sip some water, or go for a short walk to help your body process.
Most people enjoy lying on a massage table for the session, but if that is not comfortable sitting in a chair is fine. You will not be asked to take off any clothes other than your shoes.
I offer BodyTalk sessions in person, over zoom or phone, and occasionally as home visits.
In person sessions are held at Healthworks in Forres, Moray. Currently clinic times are Friday afternoon and evening. The clinic room is on the first floor, if stairs are difficult please let me know.
Zoom or phone sessions have been very popular over the last 3 years and are just as effective. Read more about remote treatments here.
Homevisits within the wider Forres area are a possibility if you can't come to Healthworks but still prefer an in-person session. You will need to provide a quiet and undisturbed space for the session.
To book
Practice location for in-person sessions is Healthworks in Forres,  Moray, Scotland, mainly on Friday afternoon/evening. Online sessions are by arrangement.
Ongoing training and Ethics: As a member of the IBA (International BodyTalk Association) I follow the ongoing education requirements of IBA and keep up with the newest developments in BodyTalk. For more information visit www.bodytalksystem.com
I abide by the IBA Code of Ethics, a copy of which is available from me or from the IBA (via the contact page on www.bodytalksystem.com)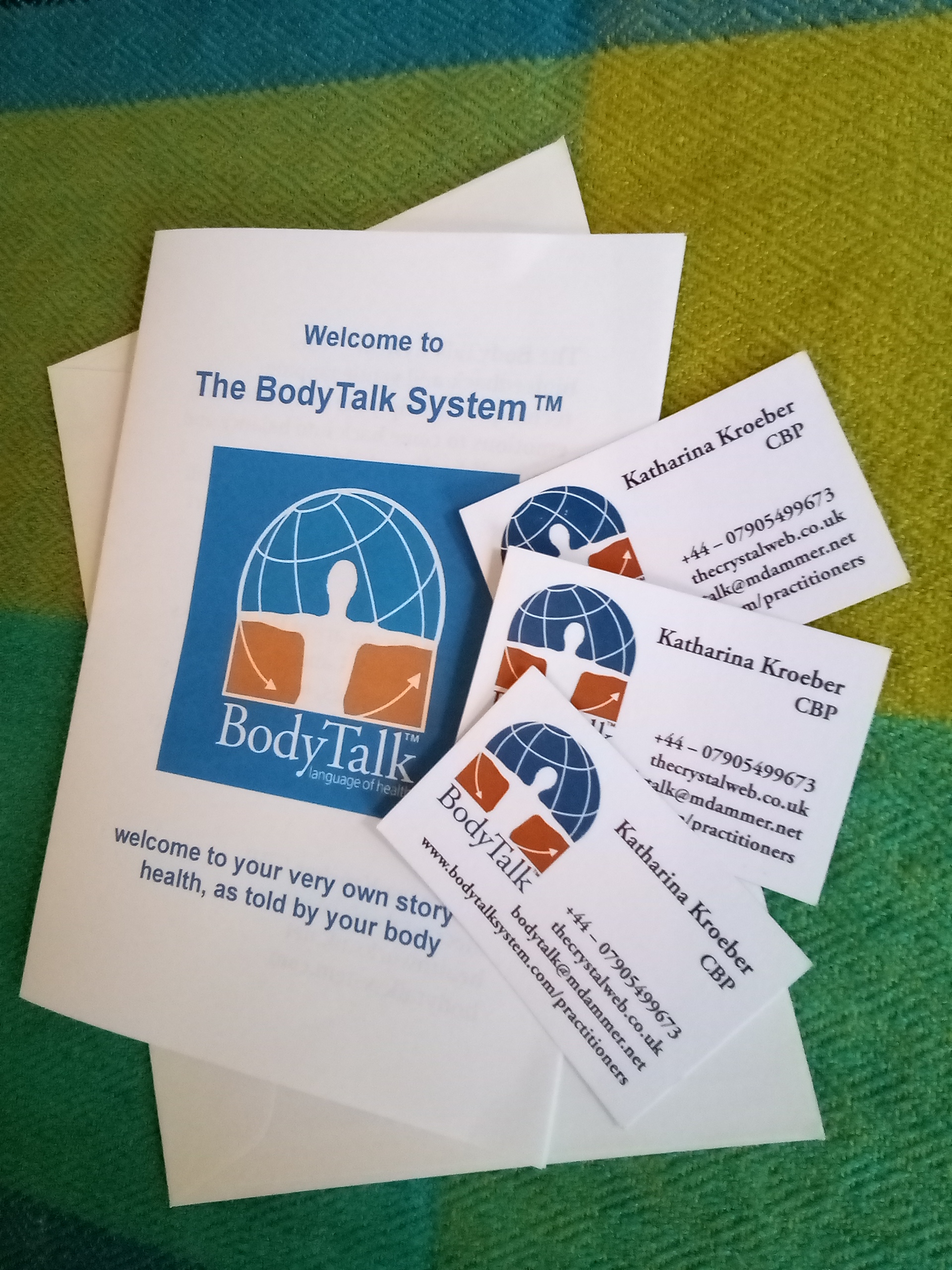 Session price: Sessions are £45 for one session, usually for one hour but might be up to one hour and a half. You can book 3 sessions at a block discount of £120 (the block can be shared with friends and family). For further concessions and bursaries through the charity Healthworks please contact me. PLEASE NOTE: from December 2023 prices will go up to £55 for a single session or £150 for a block of 3 sessions, but any sessions booked or vouchers purchased before the 1st of December are still at the current price. Session vouchers are available in a little brochure and envelope, a supportive gift to yourself or a loved one. The vouchers have no expiry date and can be purchased individually or as a block of 3.
Cancellation policy: Your appointment time is valuable and reserved just for you. If you cancel a session within 24 hours of your appointment time, there is an admin charge of £10. If you miss an appointment without cancelling, the full amount of the session fee is payable.
Privacy and data protection: While you are a client, your personal information is kept secure and will not be shared with anybody else. I am legally obliged to keep your session reports for seven years from your last session in case of any questions, after that I will destroy your session reports and other personal information. You can view and obtain copies of any information I hold about you at any time, simply let me know.
For further information and to arrange an appointment please click here to contact me
Professional Organisations and further reading online:
IBA (International BodyTalk Association), www.bodytalksystem.com
BTNUK (BodyTalk Network UK), www.bodytalkuk.co.uk
Healthworks Forres, www.healthworks.uk.net